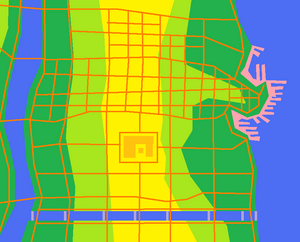 The Altadena Canal is a passage south of the city of Altadena that connects the Simbo River to the Arawdielli Sea. It is the only instance of a direct artificial water connection between the Simbo River and the Arawdielli Sea. Issued for construction by the first tharisa of Altadena, Boris I, the Altadena Canal is controlled by a series of massive reinforced steel locks that can even fatally hinder the passage of battleships and dreadnoughts that attempt to charge through the massive canal without regarding the locks. The Canal is equipped to trap any vessels that are unregistered or outlawed by the port authorities at Altadena by rapidly draining the water between the locks where the ships are; the Altadena Naval Installation is then permitted to impound these ships indefinitely and use them for whatever purpose they deem necessary.
Ad blocker interference detected!
Wikia is a free-to-use site that makes money from advertising. We have a modified experience for viewers using ad blockers

Wikia is not accessible if you've made further modifications. Remove the custom ad blocker rule(s) and the page will load as expected.